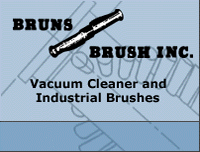 Bruns Brush, Inc.
36650 Reading Ave.
Willoughby, OH 44094

P 440.951.4009
F 440.951.4151






Bruns Brush, Inc.is a major supplier of quality vacuum cleaner brushes as well as other specialty brushes to OEM manufacturers throughout the United States and around the globe. We have been family owned and operated since 1947 and incorporated since 1962.

Our specializations are staple set & steel strip brushes. Our Engineers have an extensive array of tools and expertise that can assist you in the design of your brushes.

The entire staff of Bruns Brush is committed to meeting and exceeding your expectations in regard to Quality, Service, Delivery and Efficiency. We continually look for ways to improve our process to better serve you, our customer.