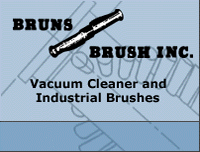 Bruns Brush, Inc.
36650 Reading Ave.
Willoughby, OH 44094

P 440.951.4009
F 440.951.4151






Brushes
Precision is crucial to our customers' applications. Bruns Brush utilizes state-of-the-art machinery to produce the highest quality in both wood and plastic brush assemblies. Our Metal Channel Set brush manufacturing process creates durable, quality brushes. Balancing is available depending on your specific need.

Fill Material
Our partnership with two major suppliers of bristling material guarantees we'll have the bristle best suited to your application. We can assist you in the custom blending of different fill materials or deciding which single fill material will suit your brush application. We utilize Synthetic, Horsehair, or a precise blend of both with an end result specifically tailored to your needs.

Design
Brush Brush engineers are experienced in every aspect of brush design, use, and function. Our CAD systems and model shop is available to assist in the planning and testing, and implementation of your brush.

Quality
Our Quality Assurance department is involved in every process associated with the manufacturing of your brush from the initial product feasibility meeting to the final 1st Article Inspection Approval. As part of our commitment to Customer Satisfaction, we are currently implementing ISO 9000:2000 policies and procedures into every aspect of our process to ensure that our customers receive a product that meets their needs. It is the objective of Bruns Brush Inc to have continuous communications with our Customers and Suppliers to ensure that the expectations and requirements are continually being achieved.